Trail to First Class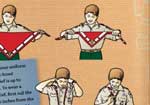 Boy Scouts of America – Official site for BSA
Boy Scout Trail – Lots of information for all aspects of scouting, including an online resource for all rank requirements.
Scout Handbook  – The Scout handbook on-line with many bonus features.
Boys Life – This site contains not only the magazine on line but downloads, contests, tips, games, and much more.

Scout test? – Boy Scout Trail web site for tests on first aid, knots, and knowledge.
Boy Scout Trail – A web site with many links and resources
---
Scouting
Wikipedia – BSA – Wikipedia entry for BSA. This has a broad description of BSA.

US Scouting Service Project – Everything you want to know about merit badges
Ore-Ida Council – The Ore-Ida Council's web site
Eagle Scout – Dedicated to helping Scouts become Eagle Scouts!
Scout Stuff – The BSA online retail store. Everything that you want to spend your dollars on!
Tukarica Lodge – The Ore-Ida Council's Order of the Arrow web site
---
Adult Scouting Resources
BSA – Adult Training – Training links for Adults
Scoutmaster CG – Information, Inspiration and Ideas for Scoutmasters
Adult Leaders – Link to training and support on Scouting.org

Good Turn for America
---
Outdoors and Other Resources

Semaphore  – A semaphore site provided from the Australian government.
Boise Faith in Action The local chapter of Faith in Action