Uniforms. From work to sports, uniforms are everywhere in our world. The Scout uniform serves many purposes from identity to a functional equipment. In Scouting, the uniform is part of the eight methods of Scouting.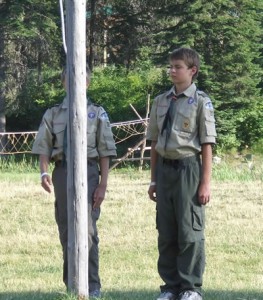 The uniform is:
Achievement
Personal Equality
Personal Commitment
Identification
The "Class A" serves similarly as a suit and tie. Scout pants, belt, Scout shirt, neckerchief, socks, and hat are considered the uniform. See photo on right. The merit badges, rank, and other accomplishments are visible on a Class A for all to see. This uniform is worn for flag ceremonies, formal meals, Court of Honors, and special events.
More info on the uniform can be found at Scouting.org
Insignia Guide for the uniform
Uniforms can be purchase at the local Scouting store or on-line at ScoutStuff.org
The "Class B" is the activity uniform of the troop. The uniform consists of the Scout pants or similar type of pants and a t-shirt. The t-shirt can be the troop's t-shirt, a Scouting shirt, or a BSA camp shirt.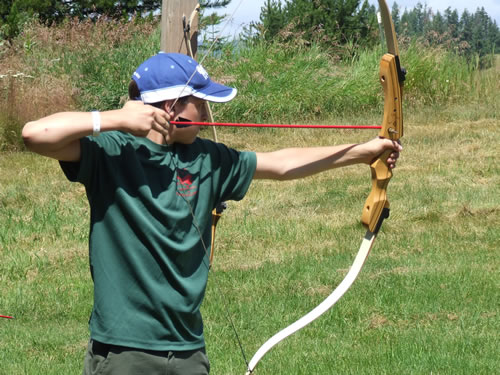 Troop 33 t-shirt is a synthetic heavy duty durable shirt. This is the "work shirt" for games, activities, summer camp, camping – anytime a Scout would like to protect the Class A shirt. See left photo for an example.
Troop 33 uniform is part of the camping equipment like correct shoes, tent, and cooking gear. Wrong clothing can cause multiple problems in the outdoors. Proper clothing will help a Scout enjoy and thrive in the outdoors. A good example is cotton pants or t-shirts. These can cause significant issues while camping both personal comfort to individual safety.
* The term "Class B" and "Class A" are not correct BSA terms but helps describe the uniforms.
Gear. The list of gear needed can be found in the camping section of the web site. Do Not spend a lot of money on gear. The troop has a supply of backpacks, tents, and other needed gear. Stores will sell you supplies not needed or do not work. Some suggested supplies from stores will put your Scout and the troop in dangerous situations. Please visit with your Scout and adult leadership before spending a large amount of money.